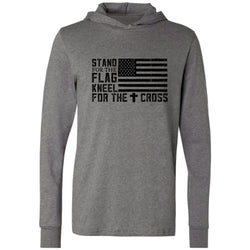 Gray "Stand for the Flag" Long-Sleeve Hooded T-Shirt
This unisex patriotic long-sleeve tee is perfect for Fourth of July, Memorial Day, Veterans Day, & more! Features soft cotton t-shirt material and hoodie, perfect for summer nights.
Front is inscribed with the quote "Stand for the flag, kneel for the cross."
Color: Gray
Material: Cotton
Care instructions: Machine wash cold