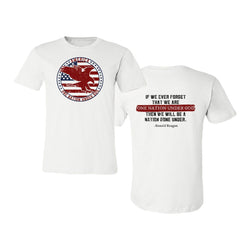 White "One Nation Under God" Short Sleeve T-Shirt
This unisex short-sleeve patriotic t-shirt is perfect for Fourth of July, Memorial Day, Veterans Day, & more!
The front of the tee has an American flag and eagle design and is inscribed with "One Nation Under God".
The back has an inspirational freedom quote from Ronald Reagan "If we ever forget that we are one nation under God, then we will be a nation gone under."

Material: 100% Cotton
Care instructions: Machine wash cold