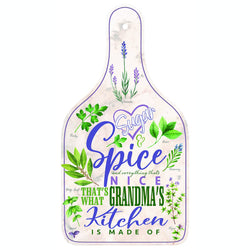 Sugar & Spice "Grandma" Cutting Board
The Sugar & Spice Grandma Cutting Board makes a great Mother's Day gift for moms and grandmas.
Inscribed with the quote "Sugar a nd spice and everything that's nice. That's what Grandma's kitchen is made of"
Brand: Cherished Women
Dimensions: 14.125" x 7.5" x .125"