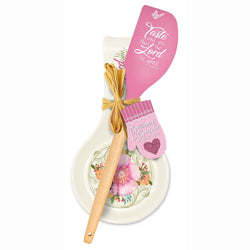 Pink Floral Spoon Rest & Spatula Gift Set - Psalm 126:3 "Taste & See"
Our spoon rest and spatula giftset is for those who cook with love. Set includes a ceramic spoon rest and a large spatula with silicon head and solid wood handle. Features beautiful pink floral design and inspirational Scripture verse. Perfect gift for the Christian women in your life or as a Christian Mother's Day gift.
Features Scripture verse Psalm 34:8 "Taste and see that the Lord is good"
Spoon dimensions 8.5" x 4.25" x 1"
Spatula dimensions 12" x 2.5" x 0.75"
Material: Ceramic/Silicone/Wood.